Our
last trip to Willoughby Brewing
for dinner left a very good taste in our mouths. We recently went back for dinner because they had once again updated their menu with some very interesting items. Would this experience be as positive as our last?
Food
For my entrée, I decided to try the Magma Melt. This melt was comprised of a large burger topped with deep fried jalapenos, pepper jack cheese, lettuce, tomato, and house made magma sauce. I don't know if you can tell from the picture but this melt was huge. The two pieces of bread were very fresh, and really stood up to the vast amount of ingredients inside. The burger itself was cooked to a perfect juicy medium, and the magma sauce added just enough kick when combined with the crunchy fried jalapenos. Speaking of the jalapenos, they not only added heat, but they also added excellent texture to each bite. The fries also provided extra crunch to the dish because they were crispy and well seasoned with salt. I was very pleased with this melt, and thought it was a great value for only $11.99. If you are going for a snack, 2 people could honestly split this dish.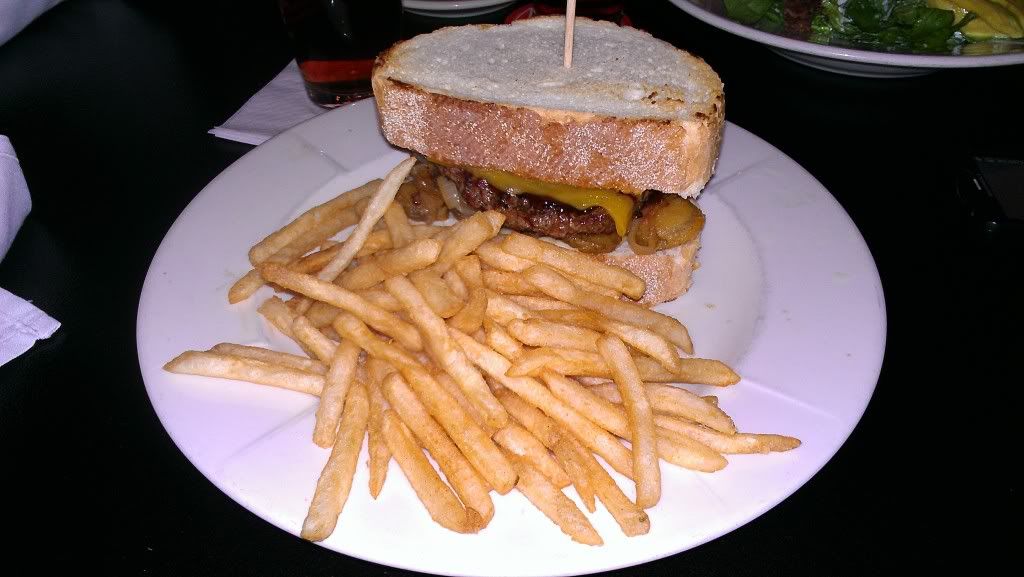 My fiancee ordered the Chopped Cob Salad, $11.99. It came with romaine lettuce, grilled chicken, bacon, egg, cucumber, avocado, roasted tomatoes, and black olives. It was supposed to be tossed in a creamy Parmesan dressing, but she elected to get it on the side instead. She really enjoyed the generous amount of avocado but the roasted tomatoes were a touch too garlicky. The chicken was moist and well seasoned and every ingredient in the salad was very fresh.
Once again our food tasted good and was very reasonably priced. I'd rate our food this evening a 4.75/5.
Drinks
Willoughby Brewing continues to impress me with the quality of their beer. Tonight we both were drinking the Moonshadow IPA. What I like most about this beer is that it has a very nice balance of hops and bitterness. I always enjoy a hoppy beer but my fiancée, who is not a hophead, really enjoyed this brew as well. You have to appreciate a beer like this that can please a diverse group of palates. Outside of this IPA, the line up at Willoughby continues to shine and I'd highly recommend stopping in for a pint or two! If you like to enjoy a Willoughby Brewing Company Beer at home, they will fill any growler you bring in. You can sign up for the growler club and after 8 growler fill-ups you earn a free one!
Service
Once again, our server was friendly and prompt with drinks and food. She was knowledgeable about the menu and was open with her thoughts and opinions on the dishes we inquired about. The service we received tonight was equal to the service we had in the previous review. It is nice to see this consistency in the service. Overall, Tonight was another example of why I'll say Willoughby Brewing is 100% back! The beer that is being brewed is better than ever, and the menu/food has now caught up in terms of quality and variety. If you have not made the trip to downtown Willoughby yet, now is the time to head out to Willoughby Brewing for a tasty food and brew combination.