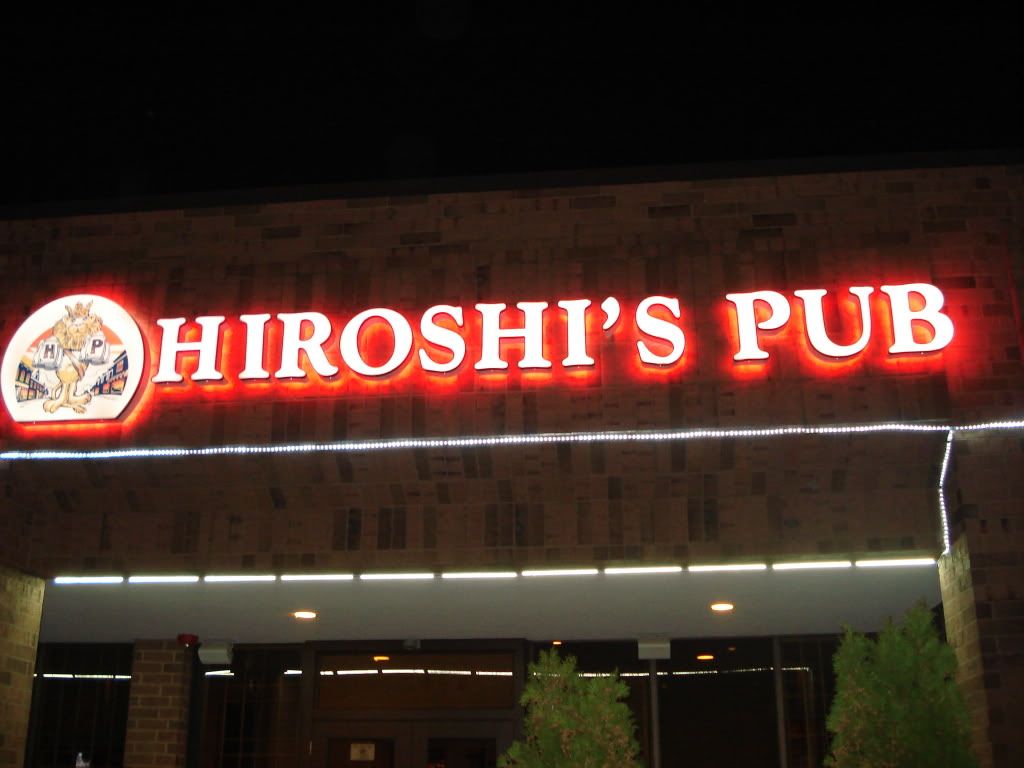 During the final days of Cleveland Restaurant Week, my fiancee planned to pop into Red Steakhouse for dinner. When we arrived, we were told it was a 2.5 hour wait and decided to walk across the street to Hiroshi's Pub instead. I've looked over the menu before while I stopped in for a drink, and was surprised at how many choices they had.
Food
After hearing our waitress describe the specials for the evening, my fiancee and I were both sold on two specific dishes that sounded amazing. My fiancee picked the house cured bacon wrapped pork tenderloin with mashed potatoes, and vegetables ($21). The pork was cooked to a perfect medium. The bacon that was wrapped around the pork had a mildly crispy texture which paired well with the soft mouth feel of the pork. We both really enjoyed the flavor combination of the tenderloin and bacon and were pleased with this part of the dish. The mashed potatoes themselves lacked any seasoning, and the gravy was a surprise because the dish was not described with it. My fiancee really didn't care for the gravy and thought it just didn't taste fresh. The vegetables served with the dish were tender but were very bland. Overall, the protein on this dish was very good, but it would have been a better overall dish with improved sides.
My choice for the evening was described by the waitress as a Leg of Lamb with pancake potatoes and vegetables ($21). When I ordered the lamb, I stressed I don't like my lamb overcooked and requested it to be cooked medium. When my dish arrived, I was somewhat confused by what I saw. Half of the lamb was cut in to very thin pieces and the other half was just a pile of meat and fat. It was all topped with sauce that I was not expecting. As I began to eat, I realized this was a very strong mint sauce and the lamb itself was beyond well-done. The lamb was almost inedible due to the overpowering sauce and the dryness of the meat. I asked the waitress what kind of sauce was on the lamb. She wasn't aware it was served with sauce and wasn't sure what kind it was. She came back to tell us it was a mint and tomato sauce. I then showed her the condition of the meat and she agreed it looked way overcooked. She apologized and left to talk to the chef and manager. As I waited, I ate the bland vegetables, the potato pancakes (which were actually pretty tasty), and two pieces of my fiancee's pork. When the waitress came back, she asked if there was anything else they could get for me. By this point, I had eaten a small starter salad and nearly half of my fiancee's dish and had lost my appetite. She came back with a tray of deserts and offered me one. At this point in the dinner, I really didn't want any more food and asked that since I did not eat 95% of the lamb that my dish be taken off the bill. She returned with the bill and said that was no problem and apologized for how poor my entree was.
Overall, this was an off night for food at Hiroshi's Pub and based on what we ate I can't give them higher than a 1.5/5.
Drinks
Hiroshi's Pub offers a decent craft beer bottle and draft selection. You will find beers from such breweries as Dogfish Head, Great Lakes, Brooklyn, Goose Island, Thirsty Dog, and Stone. They also had seasonal beers such as Great Lakes and Breckenridge Christmas Ale. During our meal, I enjoyed a very tasty Dogfish Head 90min IPA on draft, while my fiancee had a very fresh Brooklyn Black Chocolate Stout. Even if you are not in the mood for food, Hiroshi's Pub is a very good place to find a good craft beer offering.
4/5
Service
Even with my disaster of an entree, I have to say our waitress was very good. She was friendly and prompt for the entire evening. She was very knowledgeable about the main menu but we feel the specials were not communicated well from the kitchen to the table.
3.75/5
.