Three months ago we had dinner and drinks with friends at Market Garden for my
first review
. Our experience didn't leave us wowed by any means, but we knew we wanted to give them a second chance. On Friday, October 7th my fiancee and two other couples decided to do a group review where each couple would give their opinions on the evenings food, beer and service. We thought this would be fun way to give multiple perspectives in a single review.
FOOD
Our Meal
My fiancee and I decided to start our meal with the Scotch Egg. This hard-boiled egg came wrapped in garlic sausage and was cooked perfectly. The sausage had a sweet flavor which paired well with the hot sauce. This $7 starter was a very nice start to our meal.
My fiancee ordered the Red Chili Chicken Tacos ($9). The seasoned chicken was cooked perfectly. It remained moist and came packed with flavor. To complement the chicken these tacos came topped with picked onions, carrots and jalapenos that had a fair amount of spice to them. She really enjoyed how each bite came together inside the floured soft tortillas and overall was very pleased with this dish.
I decided to go with the sauteed Walleye ($19) that came with cavatelli, braised greens, and bacon. The Walleye itself was cooked perfectly. The fish remained moist and flavorful throughout, yet had a mild crispiness to the outside and the skin. The cavatelli were also cooked properly and the butter based sauce that the dish was topped with really helped to bring the fish and pasta together. Where this dish took a little misstep for me was with the bacon. The bacon was cut into small cubes and was very soft, fatty and chewy. The texture of the fish and pasta were both soft, and something with some texture, like crispy bacon or crispy pork belly, would have really rounded out the dish. That being said I very much enjoyed the pasta, fish and braised greens and would recommend this dish if you enjoy seafood.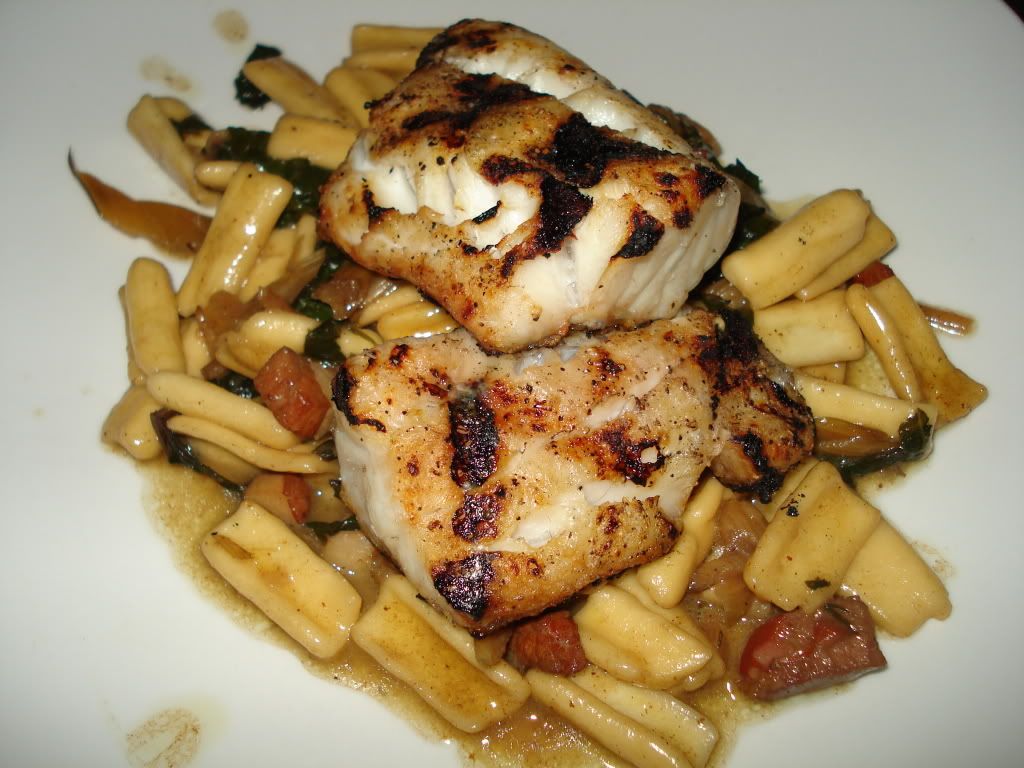 Our overall food experience at Market Garden was much better than our
first experience
. We thought the prices for our starter and entree were spot on with the quality of food we ate. Food Wise I'd give a
4.25/5
.
Bill's Food
My wife and I split a Scotch Egg and Market Salad as our appetizers. The Scotch Egg started the meal off on a high note. The sausage was delicious and the hard-boiled egg was cooked perfectly. The accompanying mustard and hot sauce took things to another level. I'd highly recommend this, as you aren't likely to find it anywhere else in Cleveland and it's a nice taste of the UK.
The market salad featured seasonal Ohio vegetables grown in the restaurant's garden. The watermelon radish, grated cheese and light dressing of mustard vinaigrette made this a satisfying $9 salad.
I ordered the Veggie Burger, which was a black bean burger with swiss, lettuce, tomato, red onion and aioli. That might seem like an unusual choice for a brewery meal, but I'm a fan of black bean burgers and order them often. I also make my own at home, so I feel like I have a bit of knowledge on the subject.
Market Garden's veggie burger was well executed. The patty itself had a nice texture and didn't crumble or turn to mush as I bit into it. The flavor was enjoyable- diced vegetables and seasonings balanced the overall taste. The aioli added moisture and an additional level of flavor, without compromising texture or mouth feel. I also appreciated that the aioli was served on the side, as it allowed me to add as much or as little as I'd like. I would definitely order this again.
The only misstep came with the side of fries. They were thin and well cooked, but inconsistently salted. Half of the plate was lightly salted, while the other half lacked salt. Unfortunately, there was no salt on the table with which to remedy this.
Renee's Food:
I ordered the House-smoked Pork Tacos and they did not disappoint! I was surprised to see thin slices of pork, rather than pulled pork on my tortilla. However, this proved to be a very pleasant surprise. The pork was moist, tender and not at all fatty. The flavor was not overpowered by the heat of the salsa verde and was complemented by the freshness of the cilantro. The house queso was creamy and slightly salty. Together, they made for a delicious taco so filling that I needed help with the third one!
Perhaps the best compliment that I can give to the spicy carrot and jalapeno escabeche is that I searched for a recipe online and hope to duplicate it at home.
Scott and Holly's Food:
For the appetizer we ordered the Pretzel which was served with the house specialty mustard and garlic cheese. Both the mustard and garlic cheese were very good and the flavors were great accompaniments to the pretzel. The only disappointments for this appetizer or "Snack" as labeled by Market Garden Brewery, were both the price and size. At $6, there is simply not enough "bang" for your buck.
For the main course I ordered the Mustard and Buttermilk fried chicken which was excellent. The chicken was perfectly fried, and the chicken was very moist and succulent. My only gripe (albeit minor) was that the chicken was coated with a "spicy honey", however, the honey was not at all spicy as claimed. Although, the honey was not spicy, the honey did add excellent flavor to chicken, and a perfect balance of salty and sweet. The chicken was served atop mixture of sausage creamed collard greens and a corn cake. I had never had sausage creamed collard greens before but it along with the corn cake were interesting, unique, and well suited side dishes and paired well with this entree.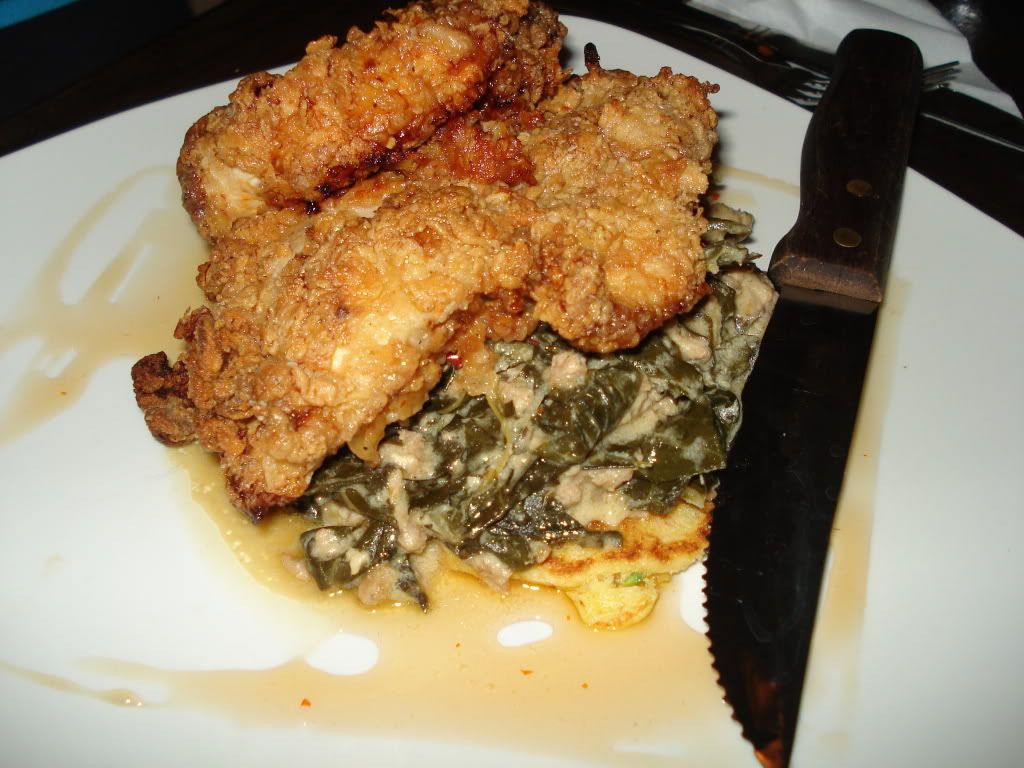 Our Thoughts:
Our last trip to the brewery left us all drinking guest taps for two reasons. First, we were unhappy with the quality of the beer, and second, because they had run out of several of the options we wanted to try. Tonight there was a full menu of beers, so we had plenty to choose from. Everyone at our table tonight really enjoys craft beer, so we decided to each order a different pint and just split it around the table. We did this because we all felt that the sampler price of $15 for six 4oz samples was simply too high considering pints were priced $5-$6.50. Hop Soup, Market Centennial Extra IPA, and the Franklin Castle Pumpkin all got thumbs up from several people based on the flavor and quality of the brew. However, the Fall Porter was over carbonated and lacked flavor and the Oktoberfest was much to watery and had no body to it. Tonight's beer experience was much better than before, but there is still room to grow in terms of quality and I look forward to seeing how Market Garden's beers improve over time. On another beer note, the guest taps that were available were excellent. Beers like Avery Maharaja, Three Floyds Dreadnaught, Founders Breakfast Stout, and Southern Tier Pumking were just some of the stars on the list. Prices for these guest brews were $7.00 each and provided a 10oz or 12oz pour. Our feeling on the house beers was mixed, but we did really like the guest tap offerings. Market Garden a 3.5/5 this time around.
Bill's Thoughts:
I started out with the Market Centennial IPA. A huge hop aroma greeted me and was reflective of the flavor throughout. The blend of hops provided a nice bitterness and the citrus gave way to grassy tones that lingered. Loved it.
I also had the Fall Porter, which fell short of my expectations. With a medium carbonation and a thin body, I was hoping for a lot of flavor but didn't find it within. With the cooler weather approaching, I was looking for a big stout or porter and had to resort to the guest taps to find that. Thankfully, Founders Breakfast Stout delivered, but at $7 a glass it brings me to my next point. The Market Garden Beer prices were higher than I'd be willing to pay routinely for the satisfaction I received. I applaud the "session" beer concept, but don't care to pay premium prices for beers that are often not as full flavored as their higher ABV counterparts.
Scott and Holly's Thoughts:
In order to evaluate the complete selection of beers Market Garden has to offer everyone at our table purchased different pints. We opted to go this route because samples of the beer were 6 for $15 which is very pricey and in our opinion not worth the price tag. In prior visits to Market Garden, a number of their beers were unavailable, however, this time all beers on their list were readily available to purchase. There were some good beers and my favorite beers of the night were Market Garden's Hop Soup, and Centennial IPA. Although I enjoyed these two beers, none of the beers particularly amazed me. Unfortunately, based on this visit and my past experiences at Market Garden Brewery, I would rather purchase beers from their "Guest List". The most disappointing beer of the night was Market Garden Brewery's Old Zahm (the house Oktoberfest). The beer had little to no body and in my opinion tasted very "watery" or watered down. Comparable to other Oktoberfest beers I have had in the past there was no basis for comparison. For the first time in my life I returned the beer and asked for a substitute beer from their "Guest List". A further disappointment is that Market Garden offers the option on their menu to purchase their house beers in a mason jar for an additional $3, however, we found that only one beer on the list was available for purchase in the mason jar. The menu lists exceptions however, the list is very incomplete and changes to the menu need to be made to highlight the fact that only one of the beers is available for the mason jar option.
Atmosphere/Service/Overall
Our Thoughts:
The restaurant was buzzing the moment we walked in the door. It was buzzing to the point that it made conversions at our table very difficult, but it was nice to see Clevelanders out and about on a Friday evening. Our service was friendly and knowledgeable about the food, but only myself and my fiancee could hear her because of the noise. I found myself relaying information across the booth so the other couples would know what was going on. We also had to wait a long time between drink refills. At one point we asked the bus boy to get us water refills and he graciously did! I understand the place was busy and it was Friday night but there was clearly confusion around the restaurant. Our table was brought food at least 3 times that wasn't ours, and when I asked about a specific beer on tap they had no idea what I as talking about. The funny part about it was the beer was tapped the previous night and posted on their Facebook page as a major event. Eventually after asking several times we finally got the Three Floyds Dreadnaught we had asked for.
Overall, our visit this time showed me a few things. First, The food was much improved over our last visit. both in terms of flavors and the preparation. Second, a few of the house beers this time around were pretty good, but still a few were just not right and I wouldn't order them again. Third, the prices for samplers still remains too expensive at $15 for only 24 total ounces of beer. If they want people to try more of their beers the price of the sampler should be $2.00 per sample, or $12 for six samples. Finally, although our service was improved, we still felt like it could have been better.
Bill and Renee's Thoughts:
The atmosphere was energetic, exciting and current. Fantastic, though it felt more like a trendy restaurant than a brewery. (Not a knock, just an observation!) The noise did cause a bit of a problem with service at times, with those of us at the far end of our booth for 6 unable to hear anything our server said. That proved to be incredibly frustrating, despite her warm smile and pleasant demeanor. We did have a long wait at times for refills on water and beer, and there seemed to be a lot of confusion in the kitchen about what table ordered what food. Runners made no less than 3 different attempts at delivering various meals to our table after we had already eaten. We also read on Facebook about a guest tap featuring Three Floyds Dreadnaught, but found no evidence of that when we arrived. After asking about it, we did eventually receive the beer- as did a friend of mine the following night. However, had it not been posted to Facebook the day before our visit, we would have missed out. The quality of food and beer can be outstanding, but with miscommunication like this there will always be an immediate need for improvement.
Overall, we did receive exactly what we ordered and our server was friendly and helpful when answering questions. She also steered us right when recommending the fried chicken entrée. After tasting that off of Scott's plate, we'll be back to order it ourselves!
Scott and Holly's Thoughts:
The service we received that evening was sub-par. The waitress was nice, courteous and cordial however did not return to ask how our appetizers or entrees were after the fact. A lot of this can be attributed to the fact that the restaurant was very busy and there were a lot of tables and orders our waitress was responsible for. When our table all purchased different beers and asked for glasses to create our own tasting sample, the waitress was very receptive to our needs and handled the situation quite well. When I was disappointed with the taste and quality of my beer (Old Zahm Market Garden's Oktoberfest) the waitress handled my request to substitute another beer exceptionally well. The ability of an establishment to accommodate the customer's requests (as was done in this case) is paramount of exceptional service. The waitress and Market Garden Brewery should be commended for how this situation was handled.
Market Garden has improved on various aspects of their restaurant experience compared to prior visits I have made to the establishment. For the first time, all of their house beers were available for purchase, which is not an unreasonable expectation for such an establishment. While I was not blown away by the house beers, I would recommend that everyone try the Hop Soup and Centennial IPA (especially if you are a hop-head like me). To date however, the beers produced by Market Garden do not blow me away, and unfortunately I would rather drink beers from their "Guest List". The list of guest beers at Market Garden is very good and offers a wide variety of beers for people with different tastes.
The entrée I ordered, was the highlight of the evening. It is by far my favorite entrée I have had from there. Based on this visit, if you haven't been to Market Garden before, I would recommend you go merely to taste this entrée alone. Although, this entrée is excellent, I believe Market Garden's food menu should be expanded upon and some more pub/brewery food should be added. I applaud them for making diverse and unique entrees, however, in my opinion the menu in its current state, is rather limited.
Overall, I believe that Market Garden could improve some of the prices on their menu. At $15, 6 samples of their beer is very steep and not worth the investment. Further, the pretzel we had for our appetizer is in my opinion overpriced for a single pretzel.