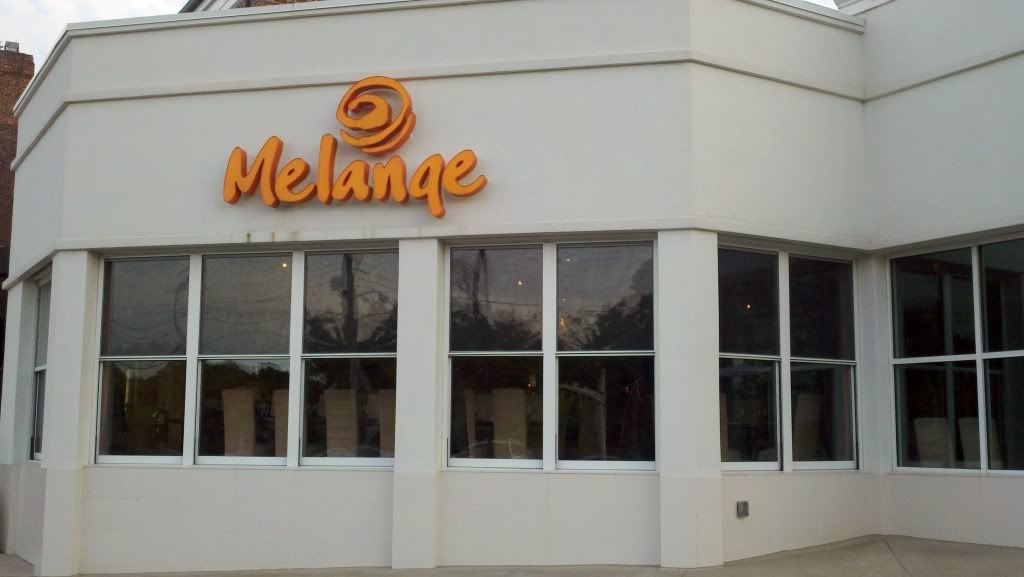 Since starting my site over a year ago, my fiancee and I have neglected to visit a restaurant that is literally 5 minutes from our house, Melange. We ate at Melange back on January 17th of 2009 for my fiancee's birthday. We remembered having a good experience, but that was way before my days of actually writing about our experiences. I know this review is nearly 2.5 years later, but we hoped for a similar experience this time around.
Food
The menu at Melange is very diverse and even the pickiest of eaters will find something on the menu that will meet their needs. As we were seated, we were brought a basket of breads and spreads. The crispy flat bread was good but really didn't need any of the spread because it had such robust flavor itself. The regular Italian style bread was fresh and soft. It did go well with the garlic, herb and honey butter, chickpea spread and the olive oil and balsamic dipping sauce.
We asked our waitress what the top entrees were on the menu and she highly recommended the trout. I decided to give it a shot since I really enjoy seafood. The presentation of the dish was colorful and creative, while the portion size was slightly larger than expected for $22.50. The first piece of trout was slightly thicker and moist, but half of the second piece was overcooked because it was so thin. There was very little salt on the fish itself, but the capers on the plate more than made up for that. The roasted tomatoes and potatoes added a wonderful earthly element and were an excellent complement to the fish. I was pleased with my dish, but I would have preferred a single filet of trout that was consistently thick and evenly cooked. I also prefer the skin to be much crispier.
My fiancee went with the 10oz grilled strip steak. It came with a guacamole, chorizo and queso fresco loaded Baked Potato with a Tomatillo Salsa. Once again the presentation on this dish was excellent. It had the wow factor for visual appeal when the plate was set down. Unfortunately, that was the high point for the dish. The color on the steak was a perfect medium, but three out of the six slices of steak were cold throughout. The three slices that were somewhat warm, were sitting on the potatoes. The flavor on the steak was good, but the actual temperature was disappointing. The combination of chorizo and tomatillo salsa added a kick to the dish in terms of spice, but the potatoes just tasted over cooked and under salted. The dish did not come together with the flavor profiles as we had hoped.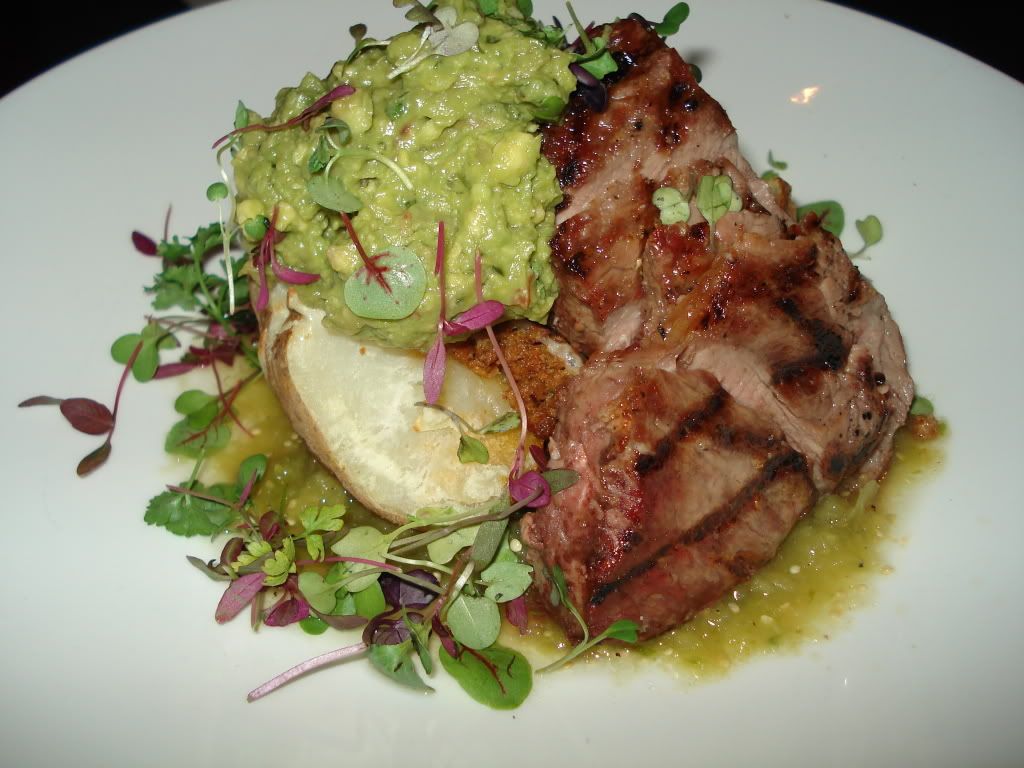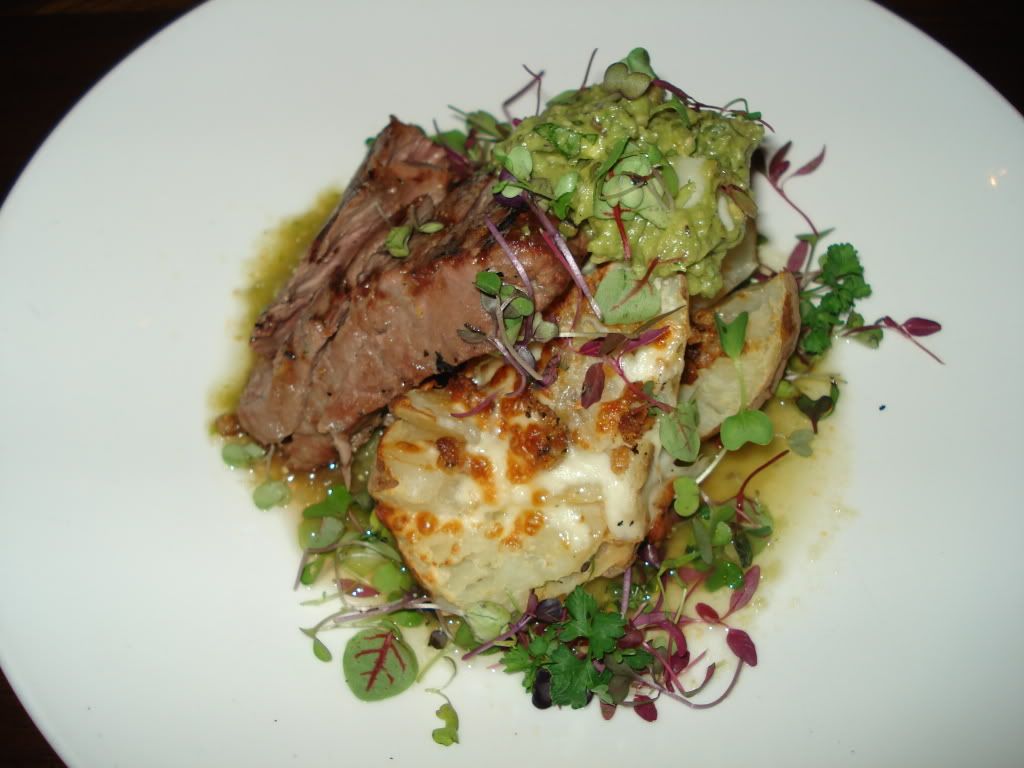 We had high expectations based on our last experience, but we were somewhat disappointed in our food experience this time around. You might be wondering why we didn't say anything, but I'll get into that more in the service part of the review. Food was 2.5/5.
Melange doesn't offer any draft beer, but they do have an average craft beer bottle selection. "New World Beers" such as Sierra Nevada Torpedo, Rogue Dead Guy and several Indigo Imp brews were all available. They also carried "Old World Beers" such as Guinness, Duvel, and Stella Artois. Where Melange excels is their mixed drinks and wine offerings. Pretty much any mixed cocktail you can think of appears on the menu. My fiancee opted for a cocktail that consisted of watermelon, basil, vodka, simple syrup, and soda. It was mighty tasty! Drink wise I give Melange's offerings a 3/5.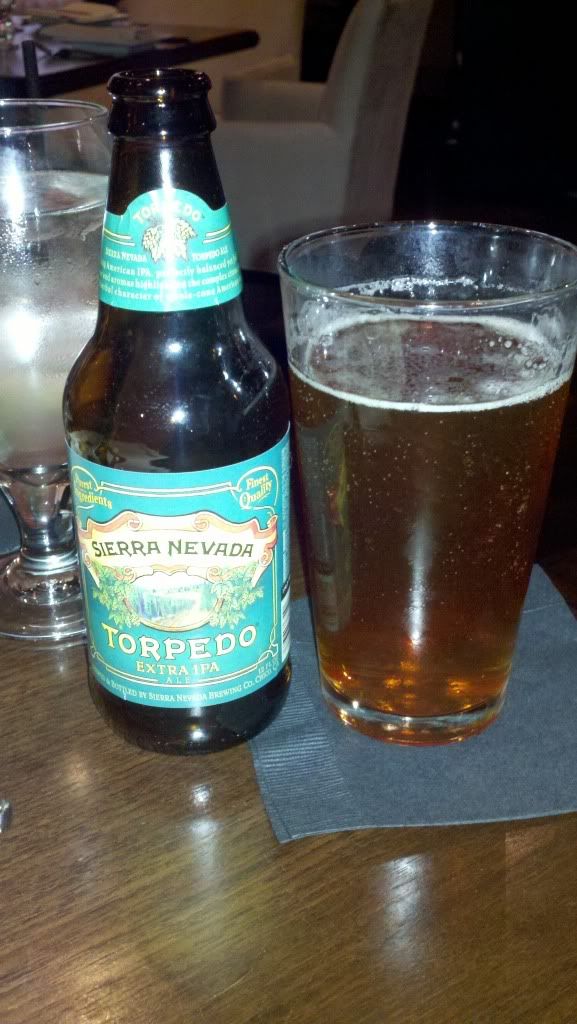 Our night started out great. We were quickly seated and kindly greeted by a smiling and very friendly waitress. She was very open and knowledgeable about the food and drinks. I even remarked to my fiancee how impressed I was with service. Our drink orders were taken and filled quickly. Our food order was taken within 15 minutes of being seated. As we waited for our food, we noticed that the restaurant itself was not very busy, but a large group was entering the restaurant's private party room. We also noticed that our waitress started serving this large party. After about 20 minutes of placing our order, our waitress brought out food to us and we began to eat. Unfortunately, this was the last that we saw of her because she never returned to check on our food. For over 20 minutes we sat at our table and she did not once check in to see how our food was or if we needed any drinks. The hostess did come over once we were halfway done eating and asked if everything was OK, but by this point we were both very frustrated. Our waitress didn't return until she brought our check, but she only came over because the hostess asked if we were ready for our check. While signing the bill, a tall gentleman approached the table to clear away more plates and asked how our meal was. I responded to him "It was OK." I was hoping he would ask why it was "Just OK" but he took the plates and simply walked away. When dining at a restaurant of Melange's caliber, I have high expectations for service. These expectations were met during the first half, but were not met during the second half of our evening. We honestly felt we were forgotten about once the large party came in and that is not the feeling I want to have when paying $65 for a meal. Service wise tonight was a 5/5 during the seating and ordering half, but a 0/5 once we got our food until we left.